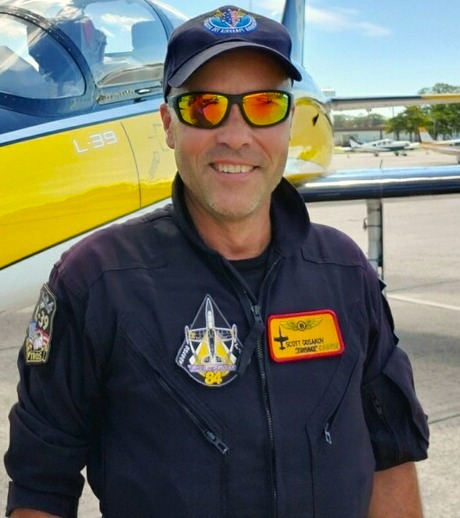 Scott Gusakov
Race #84 – Tumbling Goose
L-39 Albatros
Biography
The Tumbling Goose Airshow & Air Racing team is led by Scott Gusakov of Milan, Michigan.  Born and raised in the Buffalo, NY area, Scott was exposed to flying and airshows by his father, a private pilot himself, at a young age.  He began flying competitively in aerobatic competitions in 2000 with a Pitts Special biplane and got bit by the air racing bug after purchasing a Glasair III kit plane that is also aerobatic.  Scott has participated in numerous Sport Air Racing League races in the Midwest in his Glasair III and has been a participant in the annual cross country Airventure Cup race with both the Glasair III and L-39 Albatros jet.  In 2017 he participated in his first Pylon Racing Seminar and was hooked on the "fly low, go fast, turn left" style of air racing that takes place in Reno, Nevada each September.  He earned 3rd place in the Sport Bronze class in 2017 as a rookie.  In 2018 he acquired Race #84, a Czech built L-39 Albatros military jet and raced in the 2019 National Championship Air Races as a rookie jet racer where his flying skills earned him the title of 2019 Jet Class Rookie of the Year.  During the rest of the season and in between races Scott enjoys showing off the eye catching and head turning paint scheme and jet sounds, and excitement of the Tumbling Goose L-39 by performing exciting low level aerobatic and formation flying routines at civilian and military airshows around the country.
When he's not flying he can frequently be found with his border collie, Tesla, participating in disc dog competitions across the US.
Scott retired from a successful career as an engineer in the automotive industry in 2016 and lives with his longtime girlfriend and crew chief, Lisa, their Border Collie Tesla, two chinchillas and a pugnacious Russian Tortoise named Twerpy in Milan, MI.
Hope to see you soon from high above the crowd!