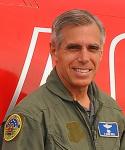 Biography
Kevin served as an Air Force pilot with over 500 hours in the F-4 and 3300+ hours in the F-16, and is a graduate of the USAF Fighter Weapons School. He was stationed in Europe and the Pacific for most of his flying duties, including 65 combat missions over Iraq and Bosnia as a fighter squadron Operations Officer and Squadron Commander. He retired as a Colonel with 27 years active duty; and was the Chief, Flight Operations Division, HQ Air Combat Command, Langley AFB, VA.
After retiring from the Air Force in 2004, he spent 3 years as a Sr Aeronautical Systems Engineer for American Airlines (Tulsa, OK) working on the Airbus A300 and B757.
He serves part-time as a military consultant and F-16 Contract Sim IP with the Air Force's F-16 high fidelity simulator Distributed Mission Operations (DMO) program at Misawa AB, Japan.
His pilot qualifications include CFI, CFII, ATP, tail-wheel instructor. After PRS 2016, Kevin said, "It is an absolute privilege to be a race pilot at Reno!"