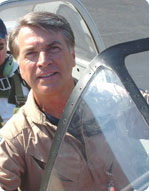 Doug Matthews
Race #33 – Stallion
SIAI-Marchetti S.211
Biography
Born in San Francisco to a career Air Force officer/pilot, Matthews spent his early years in Europe. On returning, he spent his teens washing airplanes, flying and teaching flying while preparing for an aviation career. Receiving a Presidential appointment to both the Air Force and Naval Academy, Matthews selected the Navy so that he could fly from aircraft carriers.
At Annapolis, he majored in Aerospace Engineering. Additionally, he was promoted to a leadership position within the Academy ranks. Graduating during the peak of the Vietnam conflict, he took a delayed set of orders to flight training in order to serve a tour as a gun-boat skipper in the South Vietnamese jungles. His first commanding officer? Paul Grey, Captain USN, for whom the Bridges of Toko-ri was written and filmed. Completing a distinguished year, he reported to flight training as the most decorated Ensign in the Navy. Matthews instructed in the Navy and in the local community until leaving active duty. He was selected as a production test pilot for the Citation jet factory. There, his varied background and experience was called upon as he tested and delivered many of the first 50 Citations ever built. Additionally, he was a prime Flight Demonstration Pilot for the factory.
With his business success, he was able to compete in aerobatic competition in his Pitts Special, and fly air shows in his own F-86 SabreJet and F-5 Freedom Fighter. Doug also races in the Unliimited Division of the Reno Air Races.
Matthews is a retired Lt. Commander in the Naval Reserves, a director of the Naval Aviation Legacy Foundation and the sponsor of Classic Fighters of America. He was Lead of the Tailhook Legacy Flight 2006-2008.
Licenses & Ratings:
Airline Transport Pilot / First Class Medical (no limitations)
Type Ratings-IA-Jet (IAI Westwind 1124), Learjet, Citation, JetStar, Gulfstream II and V, DC-9, B-727, Douglas SBD, North American P-51, Grumman F6F Hellcat, Grumman F8F Bearcat, Vought F4U Corsair, Sea Fury, T-33, Iskra, A4, S211, F-86 and L39.
CFI-Airplanes, Instruments, Multi-Engine
Total Time: 17,000 hours
FAA-approved aerobatic low-level authority and FAST Check Pilot